GSM-AUTO GSM Remote Control System ( Relay Control )
This GSM-AUTO type power input is AC/DC12V-24V
if want to use AC100V-240V Power input,please go to GSM-AUTO-AC type
if want to use CDMA SIM card, please go to GSM-AUTO-AC type
Maximum authorized phone numbers: 100
Package including:
One pcs GSM-AUTO GSM controller box
One pcs GSM Magnet mount antenna (3 meter wire length)
One pcs USB program adaper
Download:
USB Programmer Driver ( CP2102 adapter )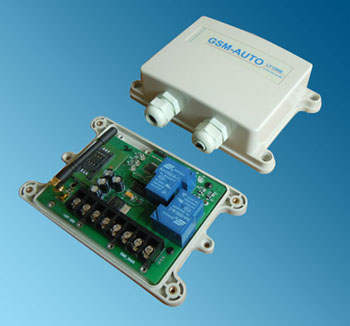 AC/DC12V version
GSM-AUTO GSM remote control switch Description: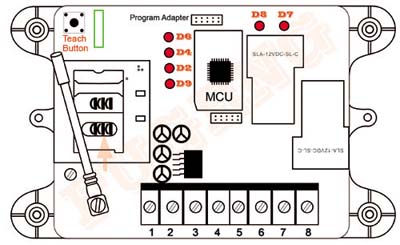 Order the samples directly from http://www.wafer-shopping.com :

Our standard products is designed with QUAD GSM BAND and that is no problem for all the world market at 850/900/1800/1900MHz
The GSM-AUTO is a wireless remote On/Off switch that can be controlled through a connection to the GSM cell phone network. The connection to the GSM cell network is accomplished by purchasing a SIM card and Pay-As-You-Go (PAYG) plan from your local wireless provider. Once the SIM card is installed in the SIM card holder on the top of the GSM module of your GSM-AUTO will have its own unique telephone number.
The unit is activated by an incoming call to its cell phone number. The unit cannot answer a voice call but in sensing the call its logic will activate one or both of the output relays in a pre-programmed sequence. Because the unit doesn't answer the call, the activation of the relays does not incur any call charges to the PAYG plan or to the caller.
Alternately, the individual relays can be activated by sending SMS text messages to the unit's phone number. Similarly, the unit is programmed by sending specific SMS text commands.
The GSM-AUTO unit controls 2 independent switches. You can therefore control 2 separate devices from one unit. An example would be in a aircraft hangar where the battery charger and engine pre-heater are turned on in sequence to prepare an aircraft for a flight
GSM-AUTO

Power input: AC/DC9-24V
Two output channel
Each channel at 4000W @ 220V
Frequency: 850/900/1800/1900MHz

Additional "Teach Button" can do the fast phone number program

More safety protection components

On board Supercapacitors to keep the realtime clock even when power off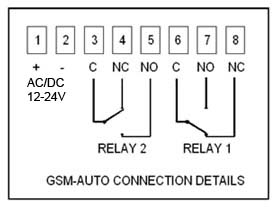 GSM-AUTO Remote control box Features:
Quad band - will work anywhere in the world
Secure caller ID allows controlled access of up to 100 authorized users, the users telephone numbers are added to the white list, only the numbers in the white list are able to activate the GSM-AUTO, users can be added and deleted as required using text messages
There are no call costs incurred when calling the unit, it will recognise an authorized telephone number calling it and reject the call without answering
The GSM-AUTO has two independent relays with normally open and normally closed contacts, these can be programmed to switch on for between 1 second and 18 hours, in addition a delay time between relay 1 and 2 switching can be set, programming is achieved by sending text messages to the GSM-AUTO, once programmed you simply call the unit to activate the relay operations already programmed
The programmed operation can be temporarily overridden and the relays switched on for up to 18 hours by sending the unit a text message command, a confirmation text will be returned when the relay(s) is switched on and another when it is switched off
The relays can be permanently switched on or off by sending the GSM-AUTO
a text message, again a confirmation text will be returned
An on board clock and 24 hour timer with 8 time segments for each relay enables the relays to be switched on and off for a set time, for example relay1 switches on at 0600 (6am) and off at 1900 (7pm), once set the timer function repeats every day until reset. The caller ID and override functions are disabled when the 24 hour timer is active.
Operating Voltage
AC/DC12V-24V
Operating Current
Maximum 450mA,Typical 60mA
Relay Contact

Double Relay Output Channels:
Normally Open and Normally Closed

GSM Frequency MHz
850/900/1800/1900MHz
Operating Temperature
-20 to 55
Physical size
130*100*50mm
Protection
IP65
Applications include the remote control of heating in holiday homes, lighting, engine pre-heaters, aviation engine heaters, irrigation systems, water well pumps, pumping stations, cabin heaters, resetting of remote servers, arming and disarming security systems, access control of gates and garage doors.
Wafer GSM-AUTO USB programmer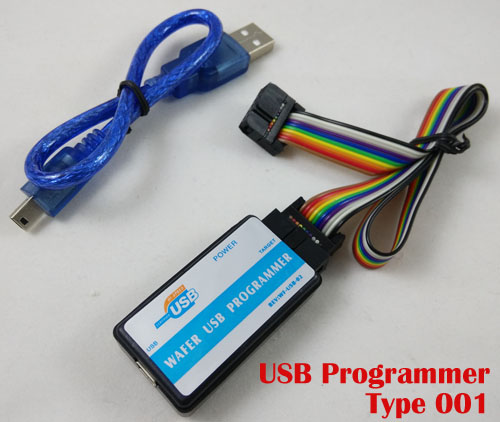 GSM Magnet Mount Antenna ( Specially designed for Water proof type GSM remote control box)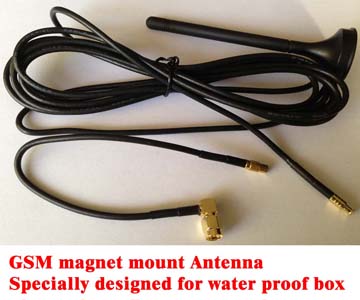 ----------------------------------------------------------------------------------------------------------------
How to use a GSM-AUTO to control the big power motor with contactor ?
Normally some big power motor or water pump, already has a control box with contactor. and on the panel of the box,there is a "START" and "STOP" button. then we can use the GSM-AUTO relay1 and relay2 output to control the box and working parallel with the "START" and "STOP 'button.
Then we use SMS command,we can control the relay seperately to "START" or "STOP"
Also we can use the dial to control and RELAY1 and RELAY2 will automatically working to automaticall "START" and after the GOT timer will also automatically "STOP".