GSM-RELAY6 GSM Remote Control System ( GSM Relay Control )
( gsm реле , gsm-реле , gsm выключатель , gsm реле с пультом ду )

(New GSM relay controller, more features including: Log data, fast program and reset button on board, Support customized SMS controller for ON/OFF controller and pulse control each seperate relay channels and also have 6 alarm input )
Maximum authorized phone numbers: 200
Package including:
One pcs GSM-RELAY6 GSM controller box
One pcs GSM Magnet mount antenna (3 meter wire length)
One pcs USB program adapter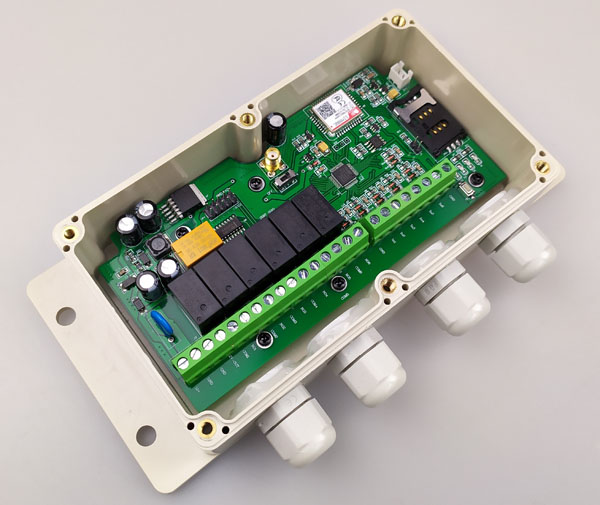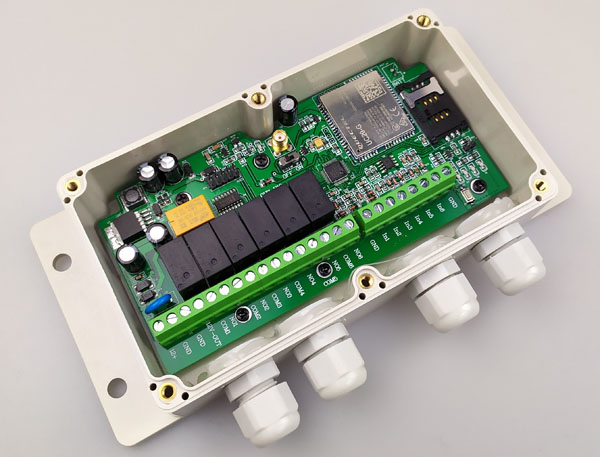 For android app,please go to google Play Store to search "GSM RELAY"
For Iphone app,please go to Apple App Store to search "GSM RELAY"
you will find the APP Logo:

If cann't install from google play store, then just download directly:
GSM-RELAY APP Download directly: http://www.waferlife.com/downloads/gsm-relay-app.rar


Order the samples directly from http://www.wafer-shopping.com :

The GSM-RELAY6 is a wireless gsm remote controller switch that connects to the GSM cell phone network.
It has six independent relay switches, and the NO.1 Relay switch is activated by calling its cell phone number, it will reject the call without answering and switch on the device connected to it,then there are no call costs incurred when dialling the unit, it will recognise an authorised telephone number calling it and reject the call without answering.
It has other 5 independent relay switches which can be switched on or off by sending the GSM-RELAY6 an sms text message.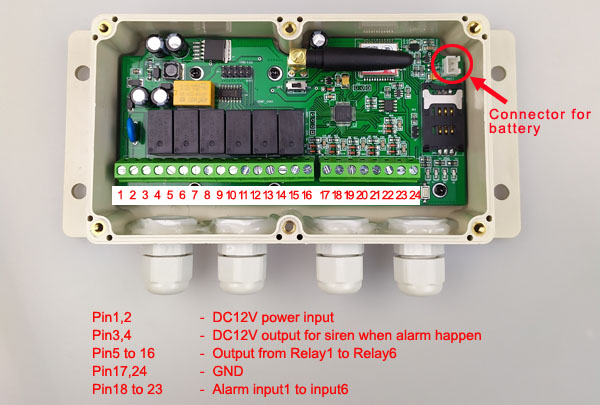 Specifications:
Real-time & interactive control
6 channels  250V 10A 50 Hz relay contacts
6 Alarm input
Rechargeable batter on board for power failure alert
Works  with GSM phones 
Operating temperature (-25 .. +60 °C) 
Relays operates almost every appliance 
Small standby power (< 10mA 12V) 
Relay memory after power failure
Optional password to keep the system at safety operating mode.
Remote Password change 
Two operating mode optional ( remote setting with GSM phones)
One relay is woking with the phone calling, and others working with the SMS
Commands can added to GSM-phone number for raeady made commands
Working voltage is at DC12V.
One voltage output when alarm happen
GSM-RELAY app software on the mobile phone for android and iphone system.
Important about the GSM-RELAY6 software and APP: For GSM-RELAY6,user can use the GSM-RELAY PC software and APP to program almost all the parameters (not include the alarm input parameters)
Go to google play store or Iphone app store to search "GSM RELAY"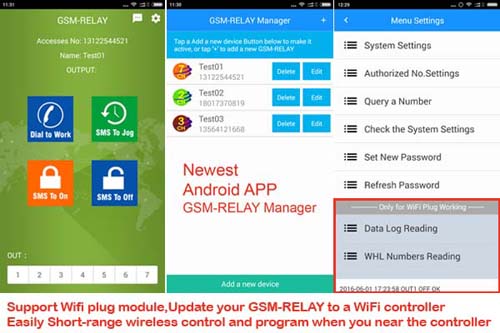 Wafer GSM-RELAY6 USB programmer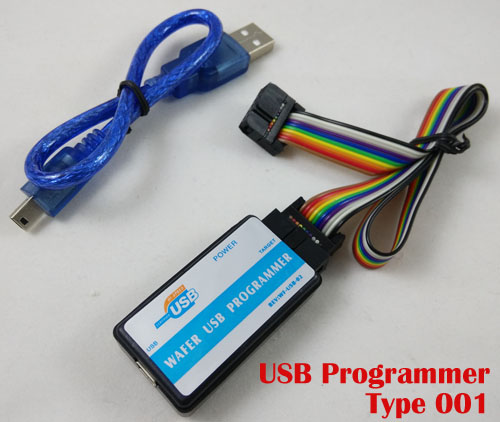 GSM Magnet Mount Antenna ( Specially designed for Water proof type GSM remote control box)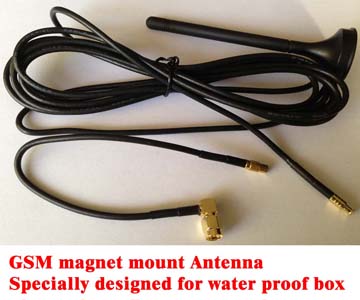 GSM-RELAY PC program software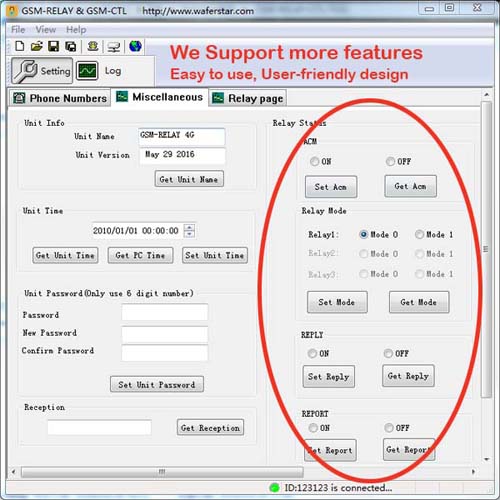 For 6 Alarm input on board:
When each input is shorted to GND ,then will trigger the alarm and send the alarm SMS to the alarm phone numbers. Totally user can preset 5 numbers to receive the alarm SMS.
Only need to do the simple setting according to the following SMS picture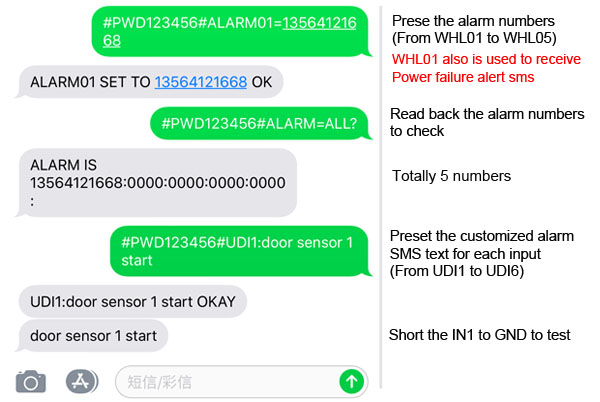 Applications include the remote control of heating in holiday homes, lighting, engine pre-heaters, aviation engine heaters, irrigation systems, water well pumps, pumping stations, cabin heaters, resetting of remote servers, arming and disarming security systems, access control of gates and garage doors.